Ad blocker interference detected!
Wikia is a free-to-use site that makes money from advertising. We have a modified experience for viewers using ad blockers

Wikia is not accessible if you've made further modifications. Remove the custom ad blocker rule(s) and the page will load as expected.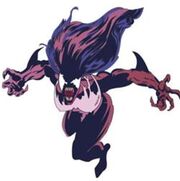 Leslie Gesneria was a mercenary hired by the Life Foundation. In order to fulfill her role as a superhuman officer for the corporation's future utopia, she was granted one of the 5 symbiotes forcibly spawned from
the Venom symbiote
.
Note: The symbiote (and his hosts) wasn't officially named Lasher, until Carnage, U.S.A. #2.