Ad blocker interference detected!
Wikia is a free-to-use site that makes money from advertising. We have a modified experience for viewers using ad blockers

Wikia is not accessible if you've made further modifications. Remove the custom ad blocker rule(s) and the page will load as expected.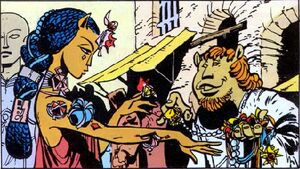 Arfal Living Jewels are beautiful crystalline life forms which attach themselves to the skin of another being. They are popularly sold in alien markets for their exquisiteness, although at least a few customers may feel aversion at the idea of having living beings attached to themselves.
Appearances
Edit
Valérian and Laureline:

Empire of a Thousand Planets (1971)
At the Edge of the Great Void (2004)

The Inhabitants of the Sky: The Cosmic Atlas of Valérian and Laureline (1991)