The Autobots are both one of the primary factions of the legions of Cybertronians, and a faction of the Cybertronian race during the Grate War, at least to the extent that some have called them a subspecies.
Objectives
Edit
They usually find themselves defending both their own race and other species against the Decepticons and upholding justice and freedom throughout the galaxy.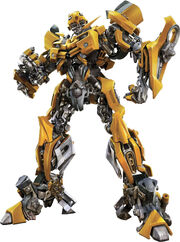 A generally heroic, honorable group, they tend to be dedicated to peace, and feel a need to protect other races from the Decepticons. As a result they are usually Transformers who change into non-combat oriented alternate modes such as domestic vehicles, cars, trucks, or rescue vehicles. This is not always the case, however, as their ranks certainly contain ne'er-do-wells, malcontents, and unsavory types, and the necessities of war have led many to adopt more combat-oriented alternate forms. While the Autobots have usually found themselves outnumbered by the Decepticons, the Autobots have always had home-field advantage, having not only the humans' military support, but also having more places to fall back on, while the Decepticons are entirely unwelcome on Earth. Autobots are often seen as the workforce of the Cybertronian race, performing the jobs that make civilized life possible. The Decepticons who joined Megatron in his quest were mostly from the militia.
The origin of the Transformers species differs according to continuity, and not all continuities have given the race a specific stated origin at all, but, of those that exist, the most prominent are:
Atechnogenesis — Spontaneous evolution from "naturally occurring gears and pulleys" on Cybertron's surface. This rather questionable origin was given in the first Marvel Comic issue and then was promptly (and thankfully) ignored.
Quintesson made — Created as consumer goods and military hardware by the alien Quintessons. This was the origin given for the Transformers in the original Generation One cartoon. Although well known because of the cartoon's prominence, it has been given relatively little attention in subsequent media. According to some sources, it may be just another Quintesson trick.
Primus created — Created by the god-like "Lord of the Light" Primus to carry on his age old battle with the "dark god" Unicron. This origin sprang from Simon Furman's United Kingdom comics and then carried back to the later American Marvel books. It is also the origin that has been embraced and adopted by pretty much every Transformers work/continuity since then. A retcon created by the Transformers Universe and Fun Publications Cybertron comics and related fiction has unilaterally applied the Primus and Unicron backstory to all Transformers continuities in the Multiverse, past and future. How this works in light of the original cartoon's Quintesson backstory has not been explained (3H attempted to do so, however).
Biomechanical evolution — In no continuity is this a proven back history for the Transformer race. It is mentioned as idle speculation by Nightbeat, who wonders if perhaps Transformers perhaps evolved/upgraded (with or without external help) from biological beings to mechanical ones, in a similar manner to the transition he witnesses underway on Gorlam Prime. In some continuities, Cybertron is known to have once been inhabited by organic life; in Beast Machines, for example, Nightscream finds the fossilized remains of organic animals, which incidentally were startlingly similar to known Earthly life forms. However, there is little or no implication that the Transformers evolved from these organics; there is more implication that whatever previous life was on Cybertron was instead swept aside by the Transformers or their forebears. The Kiss Players timeline states that 12,000,000,000 years ago, Cybertron was a verdant planet in Japanese continuity.
Cube Creationism — This origin, the newest, is seen in the Transformers 2007 movie and Transformers Animated. According to it, a cube-like object (much larger—though shrinkable—in the movie) mystically gave birth to the Transformers. It is not known by any of the Transformers who created it. This cube was known as the Allspark.
Differences
Edit
While many would find it difficult to tell the difference between the Autobots and Decepticons were it not for their trademark insignia, Decepticons are the only ones of the two who are naturally built to fly; all Decepticons in fact are meant to have this ability, likely a throwback to their days as use as Quintesson warfare constructs.
Notable members
Edit
Primus - The Planet Cybertron, about the size of Saturn (36,184 mi in Radius) / Giant World-Ship (Order-Bringer Creator God & Lord of the Light Gods)
Sentinel Prime

Infinitus (Sentinel Prime's Titan Master Partner)

Zeta Prime - Cybertronian Truck
Orion Pax / Optimus Prime - Freightliner FL86 COE semi-trailer truck/All-terrain expeditionary fighting vehicle/ bullet train/ jet

Diac (Optimus Prime's Titan Master Partner)
Roller

Brawn - Land Rover Defender
Outback - Land Rover Defender
Bluestreak - Nissan 280ZX Turbo
Bumblebee - Volkswagen Beetle
Cliffjumper - Porsche 924 Turbo
Gears - 4x4 Pickup
Swerve - 4x4 Pickup
Hound - Mitsubishi J59
Huffer - Cab-Over-Engine Semi Truck Cab
Ironhide - Nissan C20 Vanette
Jazz - Martini Racing Porsche 935
Mirage - Ligier JS11 Racer
Prowl - Nissan 280ZX Police Car
Ratchet - Nissan C20 Vanette Ambulance

Undertone - Ratchet's Buzzsaw Mini-Con Partner (Online, On Cybertron)

Jolt - Chevrolet Volt
Sideswipe - Lamborghini Countach LP500-2
Sunstreaker - Supercharged Lamborghini Countach LP500S
Trailbreaker - Toyota Hilux 4WD camper truck
Wheeljack - Lancia Stratos Turbo
Windcharger - Pontiac Firebird Trans-Am
Tailgate - Pontiac Firebird Trans-Am
Hauler - Crane Truck
Jetfire - VF-1 Valkyrie
Beachcomber - Dune Buggy
Cosmos - UFO
Powerglide - A-10 Thunderbolt II
Seaspray - Hovercraft
Warpath - General Motors M551A1 Sheridan ARAAV tank
Wheelie - Street Race Car
Grapple - Mitsubishi Fuso Crane Truck
Hoist - Toyota Hilux Tow Truck
Inferno - Mitsubishi Fuso Fire Truck
Red Alert - Fire Chief-styled Lamborghini Countach
Skids - Honda City Turbo
Mudflap
Smokescreen - Racing-modified Nissan 280ZX-R
Devcon - Futuristic Jet (Autobot bounty hunter)
Tracks - Chevrolet Corvette C3
Perceptor - MC-20 Microscope

Convex (Perceptor's Titan Master Partner)

Omega Supreme - Rocket Defense Base – Rocket – Tank
Pipes - Cab-Over-Engine Semi Truck Cab
Blaster - Boombox/F-117 Nighthawk

Steeljaw - Lion / Microcassette
Ramhorn - Rhino / Microcassette
Eject - Robot / Microcassette
Rewind - Robot / Microcassette
Stripes
Twin Cast (Blaster's Titan Master Partner)
Flip Sides
Slamdance (Combiner)
Nightstalker
Playback
Rosanna
Sundor
Blackcat
The W Cassettebots

Dile and Saur combine to form Legout
Graphy and Noise combine to form Decibel

Meltdown - Multipurpose utility vehicle
Front-Line - Military truck
Anomaly - Hazmat truck
Doubletake - Ford Mustang undercover patrol car
Ripraw - Racing truck
Showdown - Monster truck
Macro - Low-rider sports car
Triage - Ambulance
Overclock - Sports Car
Monsoon - Off-road vehicle
Sparkscape - Off-road buggy
Swagger - Motorcycle
Outsider - Surf bus
Pitstop - Stock car
Bombast - Military truck
Clear-Cut - Race Car
Adhoc - Helicopter
Vectorium
Mayday
Stiletto
Vanquish
Female Autobots

Ariel / Elita One - Cybertronian car
Chromia - Cybertronian Isuzu D-Max
Firestar - Cybertronian motor bike
Moonracer - Cybertronian Sports Car
Greenlight - Cybertronian Race Car
Lancer - Cybertronian Mitsubishi Lancer Evo
Torchbearers

Praesidia Magna
Fastbreak
Crash Test
Victorion (Combiner)

Pyra Magna (Leader)
Skyburst
Dustup
Jumpstream
Stormclash
Rust Dust

Nautica

Parsec (Nautica's Titan Master Partner)

Windblade

Scorchfire (Windblade's Titan Master Partner)

Lifeline
Cameo - Motorcycle
Catapult - Baja buggy
Assault Star
Chevalier
Deep Blue
Ether Walker
Galaxy Flare
Galaxy 'Questrian
Rocket Plume
Tempest Spin
Thunderclap
Strongarm - Police Officer, Former Cybertron Elite Guard Cadet

Lightning Strike Coalition Force / Dinobots

Slash - Velociraptor (Female)
Strafe
Skar
Onyx
Paddles - Elasmosaurus
Slog - Brachiosaurus
Scorn - Spinosaurus
Grimstone - Styracosaurus
Mini-Dinobots

Mini Grimlock, the conflagatory copy of Grimlock.
Mini Strafe, the flying facsimile of Strafe.
Mini Slug, the dangerous doppelganger of Slug.

Drones

Ankylosaurus drone
Pachycephalosaurus drone
Parasaurolophus drone
Dimertron drone

Volcanicus (Combiner)

Grimlock - Tyrannosaurus Rex (Leader)
Slug - Triceratrops
Sludge - Brontosaurus/Apatosaurus
Swoop - Pteranodon
Snarl - Stegosaurus
Wreckers

Ultra Magnus - Freightliner COE Car Carrier (Leader)
Springer - Attack Helicopter / Armored Car
Arcee - Cybertronian car (Female)
Broadside - Space Jet / Nimitz-class aircraft carrier

Blunderbuss (Broadside's Titan Master Partner)

Leadfoot (based on a character from Dark of the Moon) - Chevrolet Impala NASCAR #42 Target
Roadbuster (based on a character from Dark of the Moon) - Chevrolet Impala NASCAR #88 AMP Energy/National Guard
Topspin - Chevrolet Impala NASCAR #48 Lowe's/Kobalt / driller

Freezeout (Topspin's Titan Master Partner)

Hound- Oshkosh Defense Medium Tactical Vehicle/ jeep
Crosscut (based on Crosshairs from Age of Extinction) - 2014 C7 Corvette Stingray
Pyro - Carmichael Cobra airport crash truck
Sandstorm - Dune Buggy / Sikorsky S-61 Transport Helicopter
Impactor - Cybertronian Tank / truck
Rack'n'Ruin - (Siamese twin robots) - Jets
Twin Twist - Drill Tank

Flameout (Twin Twist's Titan Master Partner)

Bulkhead - All-terrain truck trailer
Whirl - Bell AH-1 Cobra
Guzzle - Tank
Aerialbots

Balloon
Airazor
Barrel Roll
Alpha Bravo
Breakaway
Skyburst - Stealth Jet
Searchlight
Backwind
Drones

Aerialbot Scout 1
Aerialbot Scout 2
Aerialbot Warrior
Chopper Drone
Combat Helicopter Drone
Fighter Jet Drone
Recon Plane Drone

Superion (Combiner)

Silverbolt - Concorde SST jet liner (Leader)
Air Raid - F-15 Eagle
Skydive - F-16 Fighting Falcon
Fireflight - F-4 Phantom II
Slingshot - AV-8B Harrier II
Protectobots

Rook
Medix
Stakeout - Fire Response Truck
Drones

Protectobot Scout
Protectobot Sniper
Protectobot Warrior
Fighter Jet Drone
Helicopter Drone
Mobile Artillery Drone
APC Drone

God Guardian or Defensor Maximus (Super Combiner)

Heatrock
Skyfeather
Defensor (Combiner)

Hot Spot - Blue Mitsubishi Fuso Great Fire Engine (Leader)
Streetwise - Police modified Nissan 300ZX
Groove - Police modified Honda Gold Wing
Blades - Bell 204/205 Rescue Helicopter
First Aid - Toyota TownAce Ambulance
Cybertron Elite Guard

Dion - Cybertronian Pickup
Wreck-Gar - Garbage Truck / motorcycle (Junkions)
Scrapheap (Junkion)
Sky Lynx - Space Shuttle / Bird / Lynx / Dragon
Metroplex - Robot / Mobile Battle Station / City
Metroplex's city components
Autobot Clones

Fastlane - Cybertronian Dragster
Cloudraker - Cybertronian Jet

Punch/Counterpunch - Pontiac Fiero
Erector
Minimus Ambus
Haruma Gō
Quickswitch

Dynamus (Quickswitch's Titan Master Partner)

Refractor
Head Masters

Fortress Maximus - Fortress / Battle station / space ship

Cog - Fortress Maximus controlled drone.

Gasket - Drone. Combines with Grommet to form Cog.
Grommet - Drone. Combines with Gasket to form Cog.

Cerebros - Fortress Maximus's Head / Communication Center (Fortress Maximus' Head Master Partner)

Emissary (Cerebros' Titan Master Partner)

Hosehead

Lug (Hosehead's Head Master Partner)

Nightbeat

Muzzle (Nightbeat's Head Master Partner)

Siren

Quig (Siren's Head Master Partner)

Brainstorm - Cybertronian Jet

Arcana (Brainstorm's Head Master Partner)

Chromedome -Cybertronian Sports Car

Stylor (Chromedome's Head Master Partner)

Hardhead - Cybertronian Tank

Duros (Hardhead's Head Master Partner)

Highbrow - Cybertronian Helicopter w/ twin rotors

Gort (Highbrow's Head Master Partner)

Target Masters

Hot Rod / Rodimus Prime - Ford GT/Dome Zero hybrid

Firebolt (Hot Rod's Target Master Partner)

Kup - Cybertronian Pickup Truck

Recoil (Kup's Target Master Partner)

Blurr - Cybertronian Hovercar

Haywire (Blurr's Target Master Partner)

Pointblank - Cybertronian Sports Car

Peacemaker (Pointblank's Target Master Partner)

Sureshot - Cybertronian Dune Buggy

Spoilsport (Sureshot's Target Master Partner)

Crosshairs - Cybertronian ATV

Pinpointer (Crosshairs' Target Master Partner)

Quickmix - Cement Mixer

Boomer and Ricochet (Quickmix's Target Master Partners)

Landfill - Dump Truck

Flintlock and Silencer (Landfill's Target Master Partners)

Scoop - Front-end Loader

Holepunch and Tracer (Scoop's Target Master Partners)

Technobots

Scrounge
Cybaxx
Computron (Combiner)

Scattershot - Cybertronian Jet / Artillery Cannon / tank (Leader)
Afterburner - Cybertronian Speedbike
Nosecone - Cybertronian Drill Tank
Lightspeed - Cybertronian Car
Strafe - Space fighter with twin heavy cannons
Trainbots

Raiden (meaning "the thunder and the lightning" in Japanese) (Combiner)

Shouki or "Zhong Kui" – Tokaido/Type 0 Series Shinkansen Bullet Train (Leader)
Kaen or "Blaze" – DE10 Diesel Engine
Getsuei or "Moonlight" – EF 65 Train Engine
Seizan or "Blue Mountain" – Type 485-1000 Limited Express Engine
Suiken or "Hydrosphere" – Tokai-type 153 Express Engine
Yukikaze or "Blizzard" – Tohoku Joetsu Bullet Train
Monsterbots

Doublecross – Two-Headed Dragon (Leader)

Daburu (Doublecross' Titan Master Partner)

Grotusque – Sabertooth Winged Tiger

Fengul (Grotusque's Titan Master Partner)

Repugnus – Bug-Like Creature
Throttlebots

Chase - Ferrari Testarossa
Freeway - Chevrolet Corvette
Rollbar - Jeep Wrangler
Searchlight - Ford RS200
Wideload - Caterpillar 777 Dump Truck
Autobot Action Warriors

Kirk
Rodney
Loafer
Lione
Toraizer
Shuffler

Autobot Brothers

X-Brawn – Mercedes-Benz M-Class SUV
Prowler – Lamborghini Diablo Police highway pursuit vehicle
Side Burn – Dodge Viper
Team Bullet Train

Rail Racer (Combiner)

Midnight Express – E4 Series Shinkansen
Rapid Run – 700 Series Shinkansen Rail Star
Railspike – 500 Series Shinkansen Nozomi
Build Team

Build King (Combiner)

Wedge – Bulldozer
Grimrock – Backhoe
Heavy Load – Dump Truck
Hightower – Crane
Spy Changers

Hot Shot – Porsche 959
R.E.V. – Lamborghini Diablo
W.A.R.S. – Ford Thunderbird Stock Car
Crosswise – Futuristic Car
Ironhide II – Ford F-Series Pickup Truck
Mirage II – Formula 1 Racer
Daytonus – Porsche 962
Rallybots

Double Clutch - Sports Car
Drones

The blue Race Car Drone
The orange Tuner Drone
The red Drag Racer Drone
The black Street Racer Drone

Autobot Pretenders

Metalhawk
Diver
Lander
Phoenix
Cloudburst
Landmine
Waverider
Groundbreaker
Splashdown
Skyhammer
Doubleheader
Longtooth
Pincher
Pretender Beasts

Powermasters

Hi-Q
Getaway – Mazda RX-7
Joyride – Dune Buggy
Slapdash – Formula 1 Racer
Autobot Action Masters

Basher, the covert weapons platform (Tracks' Action Master Partner)
Glitch, sometimes a battle drone, sometimes a master spy partnered with Rollout
Lionizer, the barely containable fighting lion partnered with Rad
Push-Button, the warrior-bot who likes combat partnered with Mainframe
Road Rocket, the supersonic land-based (you heard that right) weapons platform partnered with Powerflash
Sights, the bird that is on the lookout for anything to help his partner Jackpot
Top-Heavy, the rhinoceros nag partnered with Skyfall
Tyrannitron, the temperamental dinosaur (Snarls' Action Master Partner)
Vanguard, the double barreled tank (Sideswipe's Action Master Partner)
Over-Run
Sprocket
Autobot Action Master Action Blasters

Turbo Cycle (Prowl's Action Blaster)
Attack Copter (Over-Run's Action Blaster)

Action Master Autobot Vehicles

Turbo Racer, the rocket-powered skateboard (Jazz's Action Master Vehicle)
Attack Cruiser (Sprocket's Action Master Vehicle)
Anti-tank cannon (Grimlock's Action Master Vehicle)
Flight Pack (Blaster's Action Master Vehicle)
Heli-pack (Bumblebee's Action Master Vehilce)
Hydro-Pack (Inferno's Action Master Vehicle)

Action Master Autobot Armored Convoy

Armored Convoy (Optimus Prime's Action Master Armored Convey)

Micromasters

Off Road Patrol (Highjump, Mudslinger, Powertrain, and Tote)
Race Car Patrol (Tailspin, Free Wheeler, Roadhandler, and Swindler)
Rescue Patrol (Seawatch, Stakeout, Fixit, and Red Hot)
Battle Patrol (Big Shot, Sidetrack, Sunrunner, and Flak)
Construction Patrol (Neutro, Groundpounder, Crumble, and Takedown)
Air Patrol (Sky High [Female], Eagle Eye, Blaze Master, and Tread Bolt)
Monster Truck Patrol (Hydraulic, Slow Poke, Big Hauler, and Heavy Tread)
Hot Rod Patrol (Big Daddy, Trip-Up, Greaser, and Hubs)
Metro Squad (Wheel Blaze, Roadburner, Oiler, Slide, Power Run, and Strikedown)
Astro Squad (Phaser, Blast Master, Moonrock, Missile Master, Barrage, and Heave)
Sixliner (Combiner)

Alan
D-Go
Joe
Leaf
Night
Spark

Sixtrain (Combiner)

Atlan
Converter
Desire
Raise
San D-Go
Windy

Sixturbo (Combiner)

Circuit
Discharge
Glide
Neo-Wheel
Road Police
Sireen

Sixwing (Combiner)

Chain Gun
Falcon
Flanker
Missile Run
Raker
Supersonic

Sixbuilder (Combiner)

Crush-Bull
Digger
Gran Arm
Iron Lift
Mixing
Treader
Triggerbots

Backstreet
Dogfight
Override

Autobot Godmasters

Ginrai/Super Ginrai/God Ginrai
Lightfoot 
Ranger
Road King
Clouder

Head Master Juniors

Cab 
Minerva (Female)
Shūta Gō / Goshooter

Gobomber
Sixknight
Grand Maximus
Grand Maximus' City Components

Cog II

Onomisu - Combines with Koka to form Cog II.
Koka - Combines with Onomisu to form Cog II.

Grand - Headmaster unit

Gran - Grand's Headmaster unit

Brainmasters

Star Saber/Victory Saber (Brain of Courage) (Leader)
Road Caesar (Combiner)

Blacker (Brain of Strength)
Braver (Brain of Skill)
Laster (Brain of Intelligence)

Multiforce

Landcross (Combiner)

Wingwaver (the combined form of Wing and Waver)
Dashtacker (the combined form of Dash and Tacker)
Machtackle (the combined form of Mach and Tackle)

Rescue Team

Holi (Leader) 
Boater
Fire
Pīpō

Galaxy Shuttle
Greatshot
Victory Leo
Skid-Z
Tow-Line
Teletraan I

T-AI (Teletraan I's daughter)

Aegis Vanguard
Argent Raider
Astral Knight
Avatar Brave
Blazing Meteor
Ironfletch
Orion Star
Phantom Nova
Psychic Pointman
Psychic Shortstop
Rampart Punch
Sledgehammer
Sonic Ronin
Star Crusher
Stardust Wanderer
Stormsong
Vermilion Thunderbolt
Wrath Thunder
Que
Dino
Salvage
Longarm
Brains
Stratosphere
Drift

RID Slipstream - Drift's Buzzsaw Mini-Con Partner (Online, On Earth)
Jetstorm - Drift's Buzzsaw Mini-Con Partner (Online, On Earth)

Cogman
Sqweeks
Daytrader
Canopy
"Bulldog"
Trench
Spitfire Autobot
Northrop Autobot
HMS Alliance Autobot
Omnibots

Camshaft
Downshift
Overdrive
Drones

Omnibot Scout 1
Omnibot Scout 2
Omnibot Warrior

Guardian Knights / Knights of Iacon

Skullitron
Talisman Knight
Dragonstorm (Combiner)

Stormreign (Leader)
Dragonicus
Steelbane
9 other knights

Rescue Bots

Rescue Force Sigma-17

Heatwave - Leader, Firefighter (Online, On Earth)
Boulder - Construction Engineer (Online, On Earth)
Chase - Police Officer (Online, On Earth)
Blades - Air Supporter (Online, On Earth)

Blurr - Former Transport Pilot, Velocitronian , Two-Time Cybertronian 500 Winner (Online, On Earth)
Salvage - Former Transport Loader, Possible Junkion Native (Online, On Earth)
High Tide - Master Seaman, Aquatic Drill Sergeant (Online, On Earth)

Servo - Mini-Con Deployer (Online, On Earth)

Quickshadow - Spy (Online, On Earth)
Brushfire
Mortar

Autobot-allied Mini-Cons

Caretaker Mini-Cons

Toolbox - Alchemor Caretaker Mini-Con (Online, Left Earth onboard Alchemor)
Cinch - Alchemor Caretaker Mini-Con (Online, Left Earth onboard Alchemor)
Flowchart - Friend of Fixit
Schematic - Friend of Fixit
Rundown - Friend of Fixit

Weaponizers - (Online, Left Earth for parts unknown)

Buzzstrike
Sawtooth
Tricerashot
Aerobolt
Windstrike
Bashbreaker
Lancelon

Activator Mini-Cons

Stuntwing - Activator Mini-Con (Online, Formerly allied with Soundwave, In Shadowzone)
Trickout - Activator Mini-Con (Online, Formerly allied with Soundwave, In Shadowzone)
Hi-Test - Activator Mini-Con (Online, Online, Formerly allied with Soundwave, In Shadowzone)
Goldgear - Activator Mini-Con with Hi-Test Body-Type (Online, Formerly allied with Soundwave, In the Shadowzone)

Armorhide
Beachbreak
Blazemaster
Dune Runner
Evac
Knock Out
Landmine
Reverb
Slap Dash
Revo
Airwave - Cybertronian Jet
Zoom
Yoketron
Drones
Cuffs
Toaster
Trailcutter
Dropforge
Samurai Swordbot Team - a trio of Samurai Autobots with the ability to merge, with their form being dubbed "Go" in addition to whichever of them is in charge of the combination, i.e. "GoKenzan".

Kenzan - Transforms into a Police car.
Jinbu - Transforms into a Fighter Jet. Specialises in scouting and aerial combat.
Ganoh - Transforms into a Fire engine. Functions as the team's 'muscle'.

Shinobi Swordbot Team - a trio of Ninja Autobots who can combine into various forms.

Gekisomaru - Transforms into a Lion.
Hishoumaru - Transforms into an Eagle. Like Jinbu, he is the team's air support.
Sensuimaru - Transforms into a Shark. Specialises in underwater combat.

Autobot footsoldiers

Autotroopers - Sports car/Tank/Jet/Submarine/Helicopter/Truck
Brawlers (Autobot Versions)
Heavy Soldiers (Autobot Versions)
Titans (Autobot Versions)
Wall Crawlers (Autobot Versions)
Marauders (Autobot Versions)
Fliers (Autobot Versions)
Leaders (Autobot Versions)
Scouts (Autobot Versions)
Soldiers (Autobot Versions)
Scientists (Autobot Versions)
Snipers (Autobot Versions)
Cloakers (Autobot Versions)
Brutes (Autobot Versions)
Destroyers (Autobot Versions)
Incorruptible Space Slugs
Soldiers (Autobot Versions)
Rocket Soldiers (Autobot Versions)
Shotgunners (Autobot Versions)
Scrappers (Autobot Versions)
Sharpshooters (Autobot Versions)
In the 2007 Transformers movie, Optimus Prime says "We are autonomous robotic organisms from the planet Cybertron". This may imply that "Autobot" is the species name for the Transformers (or at least a name they probably used to refer to their kind before the war).
Though in recent time the term Autobot is commonly thought to be a contraction of "Autonomous-Robot" it was originally conceived as a contraction of "Auto-Robot" thought the Comics sometimes stated this as "Automatic-Robot" and the toyline development materials as "Automobile Robot" due to the most early Autobots had car alt modes in 1984.
Energon the substance that functions as the lifeblood of Cybertronians and that powers their weapons and much of their technology has shown to exist in multiple states as an energy contained in a forcefield cube, as liquid which is often drunk in robot mode or used like Petroleum fuels would be in an Earth car, or as a Natural or artificial cystal form.
Energon can be seeded and the crystal form can be made to grow in a natural environment this has been a plan implement by The Decepticon head Scientist Shockwave on Earth and elsewhere.
Not all Transformers are either Autobots or Decepticons some are non-aligned, or part of defunct or rare factions like Star Seekers, this is especially true of any Cybertronians who left Cybertron in the Pre-civil war Colonial "Golden Age" era.
Transformers are exceptionally long lived and a life span of many millions of years for an individual is not unheard of.
Ad blocker interference detected!
Wikia is a free-to-use site that makes money from advertising. We have a modified experience for viewers using ad blockers

Wikia is not accessible if you've made further modifications. Remove the custom ad blocker rule(s) and the page will load as expected.