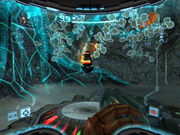 Blueroot Trees are a species of tree-like flora which is commonly found on planets that possess a desert region. This has blurred which might be their homeworld, although it is speculated that it may have originated on the Space Pirate's. They are considered quite an attractive and elegant specimen, although this underlays the fact that their leaves are highly toxic. Few species are capable of ingesting the leaves and surviving the encounter: many of them (including the aforementioned Space Pirates) consider the deadly Blueroot leaf to be a delicacy.
Samus Aran came across a small outcropping of Blueroots on Aether at the Agon Map Station in the Agon Wastes.
Appearances
Edit
Metroid Prime 2: Echoes (First appearance)
Ad blocker interference detected!
Wikia is a free-to-use site that makes money from advertising. We have a modified experience for viewers using ad blockers

Wikia is not accessible if you've made further modifications. Remove the custom ad blocker rule(s) and the page will load as expected.