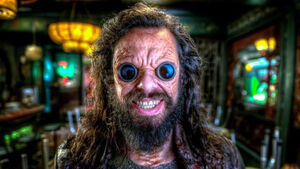 Boris the Animal
is a
Boglodite
criminal arrested by young Agent K in Cape Canaveral, Florida, 1969. He was in a mission to prevent the MIB agents from raising the ArcNet Shield which would eliminate Boglodite vessels when the aliens attempted to raid Earth. Imprisoned in a lunar detention for 43 years, Boris subsequently escaped and traveled back in time to kill K and prevent his own arrest and the destruction of his fellow invaders. He hates being addressed as "Boris the Animal" and prefers just "Boris".
Ad blocker interference detected!
Wikia is a free-to-use site that makes money from advertising. We have a modified experience for viewers using ad blockers

Wikia is not accessible if you've made further modifications. Remove the custom ad blocker rule(s) and the page will load as expected.