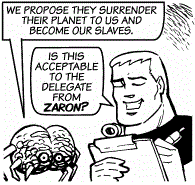 The Brain Snatchers are a sapient parasitic species from planet Zergon IV. They resemble large brains with two eyes and three pairs of short insectoid legs. Much like Brain Slugs, they have the ability to attach themselves to another being's head and control the mind of their host. They are known to have enslaved entire species this way.
Ad blocker interference detected!
Wikia is a free-to-use site that makes money from advertising. We have a modified experience for viewers using ad blockers

Wikia is not accessible if you've made further modifications. Remove the custom ad blocker rule(s) and the page will load as expected.