The Caped Stalker is a social predator native to Blue Moon. They live in large colonies of 300 Stalkers and catch their prey flying. The workers wait for the scouts signal to attack, if they have found prey. Their favourite prey is the Sky Whale.
Similar to Crocodilians, Stalkers have rough skin that at first glance, would prevent them from moving through the air (in the case of
Crocodilians
it is water). In fact their rough skin grips the air around them and helps them move through the air undetected, just like what the dipoles on a golf ball are used for.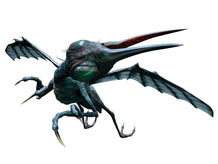 Ad blocker interference detected!
Wikia is a free-to-use site that makes money from advertising. We have a modified experience for viewers using ad blockers

Wikia is not accessible if you've made further modifications. Remove the custom ad blocker rule(s) and the page will load as expected.