Decepticon
Universe
Transformers Universe
Homeworld
Cybertron
Average Height
Variable
Energy sources
Energy, Oil, Various Minerals, Energon
Sapience Level
Sapient
Leaders
Megatron, The Fallen, Starscream, Galvatron, Overlord, Deathsaurs, MegaZarak
Combat units
Terrorcon, Predacon, Constructicon, Combaticon, Stunticon and the Seekers
The Decepticons are a faction of malevolent, brutal and merciless race of Cybertronian robot warriors from.
Objectives
Edit
The Decepticons are led by a single undeviating goal; total domination of the universe including Earth.
Convertion
Edit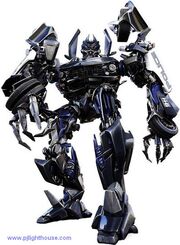 The Decepticons are one of the primary factions in the Transformers mythos. They are typically concerned with such things as galactic conquest, defeating the Autobots, amassing large quantities of Energon, developing powerful weaponry, and beating people up. Not necessarily in that order. Almost invariably, they adopt a military vehicle, such as a tank or fighter aircraft (although one chose a mining truck), to "convert" into.
Differences
Edit
While many would find it difficult to tell the difference between the Autobots and Decepticons were it not for their trademark insignia, Decepticons are the only ones of the two who are naturally built to fly; all Decepticons in fact are meant to have this ability, likely a throwback to their days as Quintesson warfare constructs. The Decepticons (including their Beast Wars Predacon descendants) & their allies.
Notable members
Edit
Unicron - The Planet Destron, about the size of Staurn (36,184 mi in Radius) (Darkness/Chaos-Bringing Destroyer God & Lord of the Dark Gods [Transformers version of Lucifer/Satan]) (Unicron created the Matrix of Malice, Dark Energon / Anti-Spark, Dark Essence / Angolmois, Dark Spark / Dark Matrix of Evil & the Anti-Matrix of Conquest & Chaos)
Fallen Primes (3 out of the 13 Original Primes are evil)

Megatronus - Formerly the guardian of entropy, whose name was stricken from history when he betrayed his brothers and became a Herald of Unicron under the new name "The Fallen". (He wields the Requiem Blaster & the Void Scepter)
Logos Prime - An enigmatic figure who, operating in the present day under the new name Soundblaster, sought to pass on his incredible powers over time and space to an heir. (He wields the Zeonomicon)

Hell Buzzsaw - Logos Prime's Mini-Con.

Liege Maximo - A legendary schemer. (He wields the Liegian Darts & the Apex Armor)

Megatron/Galvatron - M1 Abrams Tank/Cybertronian Tank/Cybertronian Jet/ Walther P38/ Cybertronian racecar/ space cannon/ semi-truck / F-22 Raptor / stealth bomber / H-tank / T-rex / care bear / dragon / hand / bat / elephant / hydrofoil / Devil ostrich/ two headed dragon / shark-jet/ dril-tank/ giant head/ helicoptor

Doomshot (Megatron's Titan Master Partner)
Nucleon (Galvatron's Titan Master Partner)

Reflector - Camera

Viewfinder
Spyglass
Spectro
Soundwave - Cybertronian truck/ tape player/ bomber jet/ drone / satelight/ minivan

Soundblaster (Soundwave's Titan Master Partner)
Laserbeak - Condor / Microcassette / camera / copying machine
Ravage - Jaguar / Microcassette

Reedman (Ravage's Mini-Con)
Ravage Clones

Rumble - Robot / Microcassette / tank
Frenzy - Robot / Microcassette / tank / radio
Buzzsaw - Condor / Microcassette
Ratbat - Bat / Microcassette / jet
Slugfest - Stegosaurus / Microcassette
Overkill - Tyrannosaurus Rex / Microcassette/ head
Autoscout - Robotic Drone
Beastbox (Combiner)
Enemy - Red & Blue Robot Warrior
Flip Sides
Garboil - Robotic Blue/Black Condor
Glit - Robotic White Jaguar
Howlback - Robotic Blue Jaguar
Wingthing - Robotic Bat
Many other generics
Knock Out - Red Sports Car
Conduit - Off-road jeep
Shellshock - Armored car
Derail - Mine clearer
Deadheat - Sports car prototype
Mismatch - Armored interceptor
Hotwire - Van
Drive-By - Muscle car
Rampart - Armored truck
Flatline - Truck
Firebreaker - European sports car
Pandemic - Sports car
Shockwave - Cybertronian Tank/Cybertronian jet/ laser gun
Demolishor - Cybertronian Anti-aircraft Missile Tank/ dump truck / excavator
Lugnut - Bomber Airplane
Oppressor
Blacklash
Blitzwing - MiG-25 / Mitsubishi Type 74 Main Battle Tank

Hazard (Blitzwing's Titan Master Partner)

Astrotrain - Space Shuttle / JNR Class D51 Steam Locomotive

Darkmoon (Astrotrain's Titan Master Partner)

Barricade - Police Saleen S281
Stinger - 2013 Pagani Huayra
Junkheap - Isuzu Giga garbage truck of Waste Management, Inc.

Small Junkheap
Medium Junkheap
Large Junkheap

Contagion
Breakneck
Tomb
Flash Sentry
Flood
The Seekers

Starscream - Modified F-15/22 Eagle
Thundercracker - Modified F-15/22 Eagle
Skywarp - Modified F-15/22 Eagle
Rain Makers

Ion Storm - Modified F-15/22 Eagle
Acid Storm - Modified F-15/22 Eagle
Nova Storm - Modified F-15/22 Eagle

Bitstream - Modified F-15/22 Eagle
Hotlink - Modified F-15/22 Eagle
Nacelle - Modified F-15/22 Eagle
Red Wing - Modified F-15/22 Eagle
Slipstream - Modified F-15/22 Eagle (Female)
Sunstorm - Modified F-15/22 Eagle
Wheezing Arrow
Skyquake
Contrail
Divebomb (Seeker Version)
Cloneheads

Thrust - Modified VTOL F-15/22 Eagle
Ramjet - Modified F-15/22 Eagle
Dirge - Modified F-15/22 Eagle

Starscream's Clones

Clone #3370318
Clone #2716057

Drones

Seeker Scout
Seeker Sniper
Seeker Warrior
Air Warriors
Insecticons

Sharpshot - Stag Beetle
Hardshell - Boll Weevil
Kickback - Grasshopper/ drag racer
Venom - Cicada
Barrage - Japanese Rhinoceros Beetle
Chop Shop - Stag Beetle
Ransack - Grasshopper
Buzzclaw
Dirge
Virulent Clones
Salvo
Shothole
Zaptrap
Shadow Raker
Bombshock (Insecticon Version)
Needler
Springbolt
Skrapnel
Infernox
Constructicons

Devastator (Combiner)

Hook - Crane Truck
Mixmaster - Concrete Mixer
Scrapper - Front-end Loader (Leader)
Scavenger - Excavator
Bonecrusher - Bulldozer
Long Haul - Dump Truck

Gravedigger - Buffalo H Military vehicle
Hightower - Yellow Kobelco CKE2500 II Crawler Crane
Buckethead
Steamhammer - Bulldozer
Payload
Overload - Red Komatsu HD465-7 Articulated Dump Truck
Rampage - Red Caterpillar D9T Bulldozer
Skipjack - Yellow Caterpillar D9T Bulldozer
Trample
Treader - Yellow Caterpillar Inc. 773B Dump Truck
Long
Frontloader
Drivetrain
"Big Green" – Green Caterpillar 773B Dump Truck
"Quickmix" – Gray Mack Concrete Mixer (Dark-side half)
Dirt Boss
Drones

Purple generic drones
Yellow Dump Truck
Constructicon Warriors
Second Bulldozer
Constructicon Scouts
Plow Drone
Steamroller Drone
Drill Drone
Front End Loader Drone
Stunticons

Menasor (Combiner)

Motormaster - Kenworth K100 (Leader)
Dead End - Porsche928 / moon
Breakdown - Lamborghini Countach/ armored truck / alien racecar
Drag Strip - Tyrrell P34 / shield
Wildrider - Ferrari 308 GTB

Offroad
Over-Run - F1 racer
Wildbreak - Cybertronian Car / Earthly Car
Heatseeker - Cybertronian Jeep / Earthly SUV
Slashmark - Cybertronian Jeep / Earthly SUV
Drones

Drone-like roller car
Stunticon Scout 1
Stunticon Scout 2
Stunticon Sniper
Junker Drone
Rocket Truck Drone
Drift Racer Drone
Street Racer Drone
Combaticons

Bruticus Maximus (Combiner)

Onslaught - Anti-Aircraft Truck (Leader)
Brawl - Leopard Tank
Swindle - FMC XR311 / race car / helicoptor / car
Blast Off - Space Shuttle/ tank/ VTOL jet
Vortex - Sikorsky UH-60 Black Hawk

Bombshock - Cannon Truck
Drones

Combaticon Scout
Combaticon Sniper
Combaticon Warrior
APC Drone
Armored Car Drone
Missile Carrier Drone
Tank Drone
Runamuck - Pontiac Firebird Trans-Am
Runabout - Lotus Esprit
Octane - Fuel Tank Truck / Jet (possibly KC-135 Stratotanker)

Murk (Octane's Titan Master Partner)

Trypticon - Tyrannosaurus Rex - Battle Station - City - dragon - space station - war ship
Trypticon's city components

Wipe-Out - Apparently fully autonomous. May simply be a Transformer under Trypticon's command.
Full-Tilt - Battlefield drone.
Brunt - Battlefield drone.

Decepticon Clones

Pounce - Puma
Wingspan - Hawk

Toxitron
Viper
Sixshot - Jet / Armored Car / Ramming tank / Laser Pistol / Winged Wolf / Robot / space laser/ tank / submarine

Revolver (Sixshot's Titan Master Partner)

Head Masters

Scorponok or MegaZarak - Scorpion / Base (Leader)

Zarak (Scorponok's Head Master Partner)
Fasttrack - Semi-autonomous.

Horrorcons

Apeface - Ape / Jet

Spasma (Apeface's Head Master Partner)

Snapdragon - Dragon / Jet

Krunk (Snapdragon's Head Master Partner)

Fangry

Brisko (Fangry's Head Master Partner)

Horri-Bull

Kreb (Horri-Bull's Head Master Partner)

Squeezeplay

Lokos (Squeezeplay's Head Master Partner)

Mindwipe - Bat / stealth jet

Vorath (Mindwipe's Head Master Partner)

Skullcruncher - Alligator

Grax (Skullcruncher's Head Master Partner)

Weirdwolf - Wolf

Monzo (Weirdwolf's Head Master Partner)

Target Masters

Groundbreak
Cyclonus - Cybertronian Fighter Jet/ helicopter/ snow cat

Nightstick (Cyclone's Target Master Partner)

Scourge - Cybertronian Flying Hovercraft/ mack truck / three headed dragon

Fracas (Scourge's Target Master Partner)

Quake

Tiptop & Heater (Quake's Target Master Partners)
Chasm (Quake's Titan Master Partner)

Spinister 

Hairsplitter & Singe (Spinister's Target Master Partners)

Needlenose

Sunbeam & Zigzag (Needlenose's Target Master Partners)

Triggerhappy - Jet Fighter

Caliburst (Triggerhappy's Target Master Partner)

Misfire - Space Jet

Aimless (Misfire's Target Master Partner)

Slugslinger - Twin-nosed Jet Fighter

Caliburst (Slugslinger's Target Master Partner)

Beastforce

Deathsaurus (partnered with Tigerbreast and Eaglebreast) (Leader)
Deathcobra (partnered with Cobrabreast)
Ion Scythe
Liokaiser (Combiner)

Leozack (partnered with Lionbreast) (Deathsaurus's second-in-command)
Drillhorn (partnered with Hornbreast)
Guyhawk (partnered with Hawkbreast)
Hellbat (partnered with Kōmoribreast)
Jallguar (partnered with Jaguarbreast)
Killbison (partnered with Bisonbreast)
Predacons

Predaking (Combiner)

Razorclaw - Lion (Leader)
Rampage - Tiger
Headstrong - Rhino
Divebomb - Eagle
Tantrum - Bull

Gnaw (Sharkticon)
Predacus (Combiner)

Ram Horn
Sea Clamp
Cicadacon
Ravage
Tarantulas
Terrorcons

Abominus (Combiner)

Hun-Gurr - White Two-Headed Dragon (Leader)
Rippersnapper - Bipedal Land Shark
Sinnertwin - Orange 2-headed Orthrus
Cutthroat - Pteranodon / Bird-like Monster (presumably a Griffin or Harpy)
Blot - Mole Monster / Blue Land Dragon
Destructicons

Ruination (Combiner)

Mega-Octane
Ro-Tor
Armorhide
Rollbar
Movor

Mudslinger - Monster Truck
Jhiaxus
Smokejumper
Drones

Armored Junker Drone
Armored Truck Drone
Dune Buggy Drone
Heavy Hauler Drone

Destrons

Crankcase - Semi Cab
Drones

Assault Vehicle Drone
Attack Helicopter Drone
Missile Carrier Drone
Spy Plane Drone

Decepticon Micromasters

Constructicon Devastator (Combiner)

Bonecrusher
Gren
Long Haul
Mixmaster
Scavenger
Scrapper

Air Strike Patrol (Nightflight, Storm Cloud, Whisper, and Tailwind)
Sports Car Patrol (Detour, Blackjack [Stunticon], Hyperdrive, and Road Hugger)
Race Track Patrol (Roller Force, Barricade II, Ground Hog, and Motorhead)
Military Patrol (Bombshock, Tracer, Dropshot, and Growl)
Battle Squad (Meltdown, Half-Track, Direct-Hit, Power Punch, Fireshot, and Vanquish)
Constructor Squad (Stonecruncher, Excavator, Sledge, Hammer, Grit, and Knockout II)

Decepticon Pretenders

Bludgeon
Octopunch
Stranglehold
Roadgrabber
Bomb-Burst
Skullgrin
Submarauder
Bugly
Finback
Iguanus
Grabuge
Windsweeper
Alice (female)
Crossformers

Black Shadow

Ominus (Black Shadow's Titan Master Partner)

Blue Bacchus

Beast Pretenders

Triggercons

Windsweeper
Ruckus
Crankcase

Seacons

King Poseidon / Shadow Cetus / Pranacon (Combiner)

Snaptrap - Snapping Turtle (Leader)
Nautilator - Lobster - Monster
Overbite - Shark with limbs
Seawing - Bipedal Manta Ray
Skalor - Piranha
Tentakil - Upright walking Squid
Dinoforce

Dinoking (Combiner)

Goryu - Tyrannosaurus rex (Leader)
Doryu - Stegosaurus
Gairyu - Ankylosaurus
Kakuryu - Triceratops 
Rairyu - Brontosaurus 
Yokuryu - Pteranodon

Decepticon Action Masters

Wingthing (Soundwave's Action Master Partner)
Scorpulator (Devastator's Action Master Partner)
Fistfight (Shockwave's Action Master Partner)
Gatoraider, the alligator with powerful jaws partnered with Krok
Catgut, the ferocious feline warrior partnered with Treadshot
Razor-Sharp, the metal shearing crab partnered with Banzai-Tron
Axer
Needler, the flamethrowing bug (Hardshell's Action Master Partner)
Screech, the eagle scout partnered with Take-Off
Fire Beast, the creature with one horn partnered with Charger
Gutcruncher
Decepticon Action Master Action Blasters

Off-Road Cycle (Axer's Action Blaster)
Turbo Jet (Starscream's Action Balster)

Action Master Decepticon Attack Vehicles

Neutro-Fusion Tank (Megatron's Attack Vehicle)
Stratotronic Jet (Gutcruncher's Attack Vehicle)

Female Decepticons

Megatronia (Combiner)

Megaempress
Lunaclub
Moonheart
Flowspade
Trickdiamond

Airachnid - Black RAH-66 Comanche / Spider
Duststorm - Off-road buggy
Astraea - Stormchaser pick-up truck
Diabla - Motorcycle
Flamewar - Motorcycle
Rollcage
Aurora Speeder
Balewing
Coldstar
Crimson Phantom
Cyclone Dancer
Fallen Angel
Flash Runner
Hoverbolt
Helter-Skelter
Hurricane Hunter
Lensflare
Metal Thunder
Nebula Ripper
Night Dancer
Spiral Zealot
Supernova Flame
Variable Star
Void Pulse
Nightra (Former Autobot)
Nightbird
Widow Maker

Thunderwing
Flamesnort
Tidal Wave

Fathom (Tidal Wave's Titan Master Partner)

Power Masters

Dreadwing

Darkwing - Panavia Tornado / 1/2 of Dreadwing
Dreadwind - F-16 Falcon / 1/2 of Dreadwing

Doubledealer - ICBM Missile Launcher Truck / Robotic Eagle

Duocons

Flywheels
Battletrap (Combiner)

Super Energy Beings
Decepticon Godmasters

Overlord (Combiner)
Darkwings (Combiner)
Doubleclouder

Decepticon Head Master Juniors
Decepticon Sparkdash

Guzzle the dino-creature
Javil the insect-creature
Sizzle the bird-creature

Browning
Guardminder
Metrotitan
Metrotitan's City Components

Metroshot
Metrobomb
Metrodash
Metrotank

Baleful Spirit
Doomsday Marshal
Doomwings
General Browbeat
Hypergear
Iron Fang
Pressure Front
Schism
Shadow Assassin
Siegegun
Smash-Gyre
Space Scar
Stellar Maelstrom
Thundercloud Knight
Ursa Major
War Blade
War Rotor
Wind War
Blackout
Dropkick
Scalpel/The Doctor - Microscope
Grindor - Sikorsky MH-53 Pave Low
Loader - Superfund truck
Devcon - Russian MAZ-7310 missile launcher
Igor
Watchbot
"Backfire" - Orange Aston Martin DBS V12
"Hightail" - White McLaren MP4-12C
"Stakeout" (Dark-side half) - Washington DC Police car
"Tankor" - Deep Desert Brawl body-type
"Wreckloose" - Sideways body-type
Enforcer
Nitro Zeus - Saab JAS 39 Gripen Fighter Jet
Mohawk - Confederate 61 Motorcycle
Dreadbot - Volkswagen Type 2 van
Berserker - Chevrolet Suburban Emergency vehicle
Catalycon
Makeshift
Drixco
Autoclave
Tronix
Banshee
Spacewarp
Lockdown
Alchemor Prisoners

Decepticon Island Forces

Leadership Team

Glowstrike - Giant Mechanical Firefly (Insecticon, Warrior, Former Leader (Online, Locked up on Alchemor)) (Female)
Scorponok - Mechanical Scorpion (Gladiator, Intimidator, Former Leader (Online, Replaced by RID Steeljaw, Locked up on Alchemor))
Saberhorn - Giant Mechanical Rhinoceros Beetle (Insecticon, Pirate, Former Leader (Online, Locked up on Alchemor))

Back - Quillfire's Temporary Cyclone Mini-Con Partner (Online, Locked up on Alchemor)
Forth - Quillfire's Temporary Cyclone Mini-Con Partner (Online, Locked up on Alchemor)
RID Bludgeon - Scorponok's Cyclone Mini-Con Partner (Online, Locked up on Alchemor)
Clout - Scorponok's Cyclone Mini-Con Partner (Online, Locked up on Alchemor)
Hammer - Bisk's Temporary Cyclone Mini-Con Partner (Online, Locked up on Alchemor)
Anvil - Bisk's Temporary Cyclone Mini-Con Partner (Online, Locked up on Alchemor)
Generic Decepticons, including Vehicons and Insecticons (Online, Captured)

Steeljaw's Pack

RID Steeljaw - Off-road vehicle (Rebel, Subsonics Expert, Pack Leader, Former Decepticon Island Support Leader (Online, Joined Decepticon Island Forces, Arrested by Bee Team and returned to Cybertron aboard Alchemor, On Earth) )
Underbite - Cybertronian Off-Road Vehicle (Metal-Devouring Chompazoid (Online, Arrested by Bee Team, Returned to Cybertron aboard Alchemor, In Bee Team custody))
Thunderhoof - Tractor (Former Crime Boss and Mob Leader (Online, Joined Decepticon Island Forces, Returned to Cybertron aboard Alchemor, In Bee Team custody))
Minitron - Mechanical Tick (Mind-Controlling Cyber-Tick (Online, Locked up on Alchemor))
Fracture - Cybertronian Motorcycle / Futuristic Chopper Motorcycle (Bounty Hunter, Mercenary, Gun-for-Hire (Online, Came to Earth to claim bounty on Bumblebee, Locked up on Alchemor))

Airazor - Fracture's Torpedo Mini-Con Partner (Online, Locked up on Alchemor)
RID Divebomb - Fracture's Torpedo Mini-Con Partner (Online, Locked up on Alchemor)

Clampdown - Minivan (Former Information Broker, Skittering Scumbag (Online, Joined Decepticon Island Forces, Returned to Cybertron aboard Alchemor, In Bee Team custody))
Kickback - Insecticon, Espionage Agent (Online, Joined Decepticon Island Forces, Presumably captured or still at large)
Overload - Futuristic Tank (Saboteur, Spy, Actor (Online, Survived Great War, Locked up on Alchemor))
Bisk - Futuristic Car (Gamer, Thrill Seeker (Online, Locked up on Alchemor))
Springload - Off-road pickup truck (Amphiboid, Relic and Treasure Hunter (Online, Joined Decepticon Island Forces, Arrested by Bee Team, Returned to Cybertron with Optimus Prime))
Quillfire - Off-road vehicle (Anarchist, Revolutionary (Online, Joined Decepticon Island Forces, Arrested by Bee Team, Returned to Cybertron aboard Alchemor, In Bee Team custody))
Groundpounder - Bulldozer (Orangucon, Gladiator, Wrestler (Online, Joined Decepticon Island Forces, Locked up on Alchemor))

Other Prisoners

Hammerstrike - Submarine (Sharkticon, Pirate (Online, Locked up on Alchemor))
Terrashock - Futuristic Truck (Buffaloid, Mob Enforcer (Online, Locked up on Alchemor))
Chop Shop - Splits into five separate spiders (Possible Arachnicon and Insecticon, Combined Form, Heist Crew, Thief (Online, Locked up on Alchemor))

Righty - Mini-Con, Combiner Component, Thief (Online, Locked up on Alchemor)

Filch - Mechanical Crow (Corvicon, Thief (Online, Locked up on Alchemor)) (Female)
Ped - Gas Truck (Botworm (Online, Locked up on Alchemor))
Cybercomrade Sect/Free Will Faction

Overhead - Buffaloid, Cybercomrade Sect Leader with Terrashock Body-Type (Online, Arrested and returned to Cybertron by Team Prime)
Clipshade/Spectrosynth - Undercover Autobot Agent, Former Actor (Online, Returned to Autobots when mission was done)
Flamefeather - (Online, Arrested and returned to Cybertron by Team Prime)
Transit - (Online, Arrested and returned to Cybertron by Team Prime)
Spinhead - Conspiracy Theorist (Online, Arrested and returned to Cybertron with Team Prime)
Retrofit - (Online, Possibly on Cybertron) (Female)
Skullcruncher II - Croctobot, Hired Muscle (Online, Arrested and returned to Cybertron by Team Prime)
Razorgrille - Croctobot, Hired Muscle (Online, Arrested and returned to Cybertron by Team Prime)

Malodor - Skunkticon Leader (Online, Locked up on Alchemor)

Malodor's Skunkticons (Online, Locked up on Alchemor)

Nightstrike - Mechanical Bat (Energon Vampire (Online, Locked up on Alchemor))
RID Vertebreak - Subway Train (Mad Scientist, Cybergrafting Expert, Former Cybertronian Science Council Member (Online, Locked up on Alchemor))

Ronin

Foxtrot - Bounty Hunter, Mercenary, Gun-for-Hire (Online, Locked up on Alchemor)
Stilts - Bounty Hunter, Mercenary, Gun-for-Hire (Online, Locked up on Alchemor)
Forager - Bounty Hunter, Mercenary, Gun-for-Hire (Online, Locked up on Alchemor)
Deadlock - Bounty Hunter, Mercenary, Gun-for-Hire 
Octopunch II - Submarine (Pirate, Undersea Combatant (Online, Locked up on Alchemor))
Headlock - Fork-lift (Mini-Con, Tutor, Wrestling Coach and Manager (Online, Locked up on Alchemor))
Scowl - Mechanical Ankylosaurus (Dinobot, Mob Enforcer (Online, Locked up on Alchemor))
Zizza - Mechanical Bee (Insecticon, Hive Queen (Online, Locked up on Alchemor))
Pseudo - Insecticon, Shifter, Spy, Infiltrator, Impersonator, Master of Disguise (Online, Locked up on Alchemor)
Scratch/"Fancyclaws" - (Online, Locked up on Alchemor)
Scuzzard - (Online, Locked up on Alchemor)
Slink - (Online, Locked up on Alchemor) (Female)
Sneak - (Online, Locked up on Alchemor)
Snitch - (Online, Locked up on Alchemor)
Polarclaw - Half-Track truck (Former Crime Boss and Mob Leader with RID Steeljaw Body-Type (Online, Locked up on Alchemor))
Crazybolt - Drag Racer, Speed Demon, Arsonist (Online, Joined Decepticon Island Forces, Locked up on Alchemor)

Slicedice - Crazybolt's Torpedo Mini-Con partner (Online, Joined Decepticon Island Forces, Locked up on Alchemor)

Razorpaw - Off-Road Truck (Former Crime Boss and Mob Leader, Energon Vampire with Scratch Body-Type (Online, Locked up on Alchemor))

Swelter - Razorpaw's Torpedo Mini-Con Partner with RID Divebomb Body-Type (Locked up on Alchemor)
Glacius - Razorpaw's Torpedo Mini-Con Partner with RID Divebomb Body-Type (Online, Locked up on Alchemor)

Torpor - Torpedo Mini-Con with Airazor Body-Type (Online, Locked up on Alchemor)
Simacore - Bulldozer (Orangucon, Temperamental Scientist with Groundpounder Body-Type (Online, Escaped stasis cell, Arrested by Bee Team, Returned to Cybertron with Optimus Prime))

Theorem - Simacore's Torpedo Mini-Con partner (Online, Locked up on Alchemor)
Axiom - Simacore's Torpedo Mini-Con partner (Online, Locked up on Alchemor)
Axiom and Theorem Mini-Clones - Sparkless and Mindless Drones (Offline, Destroyed by Bee Team)

Silverhound - Futuristic Truck (Buffaloid, Mob Enforcer with Terrashock Body-Type (Online, Locked up on Alchemor))
Stockade - Army General (Online, Survived Great War, Locked up on Alchemor)

Major Mayhem - Cyclone Mini-Con Army Commander (Online, Locked up on Alchemor)
Cyclone Mini-Con Army (Online, Locked up on Alchemor)

RID Abominus - Survivalist (Online, Locked up on Alchemor)
Backtrack - Overload's Temporary Cyclone Mini-Con Partner (Online, Locked up on Alchemor)
RID Ransack - (Insecticon) Overload's Temporary Cyclone Mini-Con Partner (Online, Locked up on Alchemor)
Bounce - Cyclone Mini-Con, Vandal (Online, Locked up on Alchemor)
Crustacion - Gas Truck (Shrimpticon, Bank Robber with Ped Body-Type (Online, Arrested by Bee Team, Returned to Cybertron by Optimus Prime))
Ragebyte - Submarine (Sharkticon, Scientist with Hammerstrike Body-Type (Online, Arrested by Bee Team, Returned to Cybertron by Optimus Prime))
Zorillor - Muscle Car (Skunkticon, Thug (Online, Arrested by Bee Team, Returned to Cybertron by Optimus Prime))
Crow Brothers

Boostwing - Mechanical Crow (Corvicon, Thief (Online, Arrested by Bee Team, Returned to Cybertron with Optimus Prime))
Jacknab - Mechanical Crow (Corvicon, Thief (Online, Arrested by Bee Team, Returned to Cybertron with Optimus Prime))
Pilfer - Mechanical Crow (Corvicon, Thief (Online, Arrested by Bee Team, Returned to Cybertron by Optimus Prime))

Wingcode - Energon Vampire, Malware Spreader with Nightstrike Body-Type (Online, In Bee Team Custody)

Starscream's Mercenaries

Shadelock - Bounty Hunter, Mercenary, Gun-for-Hire, Possible Modified Vehicon (Online, Returned to Cybertron by Bee Team)
Roughedge - Bounty Hunter, Mercenary, Gun-for-Hire, Possible Autobot Deserter (Online, Returned to Cybertron by Bee Team)
Razorhorn - Mechanical Horned Beetle (Insecticon, Warrior, Bounty Hunter, Mercenary, Gun-for-Hire (Online, Returned to Cybertron by Bee Team))

Decepticon Scavengers

Clawtrap - Scavenger Leader, Relic Hunter with Clampdown Body-Type (Online, Returned to Cybertron by Bee Team)
Scatterspike - Off-road vehicle (Relic Hunter with Quillfire Body-Type (Online, Returned to Cybertron by Bee Team))
Thermidor - Futuristic car (Former Scavenger Leader, Relic Hunter with Bisk Body-Type (Online, Returned to Cybertron by Bee Team))
Paralon - Mechanical Scorpion (Relic Hunter with Scorponok Body-Type (Online, Returned to Cybertron by Bee Team))

The Dreads

Crankcase - Black Chevrolet Suburban Emergency vehicle (Leader)
Hatchet - Black Chevrolet Suburban Emergency vehicle
Crowbar - Black Chevrolet Suburban Emergency vehicle 

Lockdown's Crew

Mercenaries
Steeljaws
Stupid Drones

First Post-War High Council (Decepticons Disguised as Autobots, later dissolved after true allegiance revealed to Cybertron's population)

Galvatronus (Combiner)

Cyclonus II - Council Leader
Cyberwarp - Council Member
Skyjack - Council Member
Treadshock - Council Member
Riotgear - Council Member

Decepticon Allies

The Quintessons (Quintus Prime's creation that somehow killed him)

Judges

Brinn
Deliberata
Derodomontatus
Heirodyus
Kledji
Klementia
Pentius
Sevax

Bailiffs
Executioners

Ghyrik
In-Saba Nur
Jolup
Rexian

Prosecutors
Scientists

Al-Badur
Extempaxia
Inquirata
Mara-Al-Utha

Other Types

Quintessa (Deceiver Sorceress)
Detritus (Junkion) (Decepticon Version)
Allicons (Footsoldiers of the Quintessons)
Driller (Shockwave's pet)
Ravasor (Gigantionian)
Sharkticons

Air Sharks
Land Sharks
Sea Sharks

Star Seekers (Decepticon Allies)

Axer
Brimstone
Cannonball
Sandstorm
Starquest
Thundertron (leader)

Infernocons (Created by Quintessa)

Infernocus (Combiner)

Skulk
Rupture
Thrash
Gorge
Glug

Velocitronian Decepticons

Exiles Ransack - Velocitronian Leader, Decepticon Sympathizer
Hightail - Velocitronian, Decepticon Sympathizer
Snowcat
Treadnutz
Big Boss

Earth-Based Decepticons

Thunderblast
Oil Slick
Mudflap (Decepticon Version)

Animatronian Decepticons

Draximus Prime (tempor.)
Undermine (tempor.)
Brimstone (tempor.)

Decepticon-allied Mini-Cons

Razorbeam
Airlift
Chainclaw
Chopster
Darkray
Throttler
Waterlog
Boombox
Heavyweight
Dragonus
Lord Doomitron
Sandsting

Firecons

Cindersaur, a violent moron
Flamefeather, an even more violent moron
Sparkstalker, a criminal genius stuck with keeping them in line.

Team Chaar

Strika
Blackout - MH-53J Pave Low III
Oil Slick
Spittor

Darkstream
Icepick
Skyhammer (Decepticon Version)
Smolder
Undertow
Wildfire
Windburn
Axor
Banzaitron
Blue Maximus
Chopsaw
Jetblade
Override (Decepticon Version)
Tailwhip
Deceptitran (Decepticon Computer)
Agoraptor
Blowback
Booster Box
Dispensor
Fifth Baron-Warlord of Polyhex
Fracture
Gunbarrel
Hardtop
Jetstorm (Decepticon Version)
Jolt (Decepticon Version)
Maelstorm
Mainframe
Meantime
Midnighter XR-4
Moustache Man (Hologram)
Overcast
Photon T-34
Power Up VT6
Reverb
Stockade
Sky Lynx (Decepticon Version)
Twitcher F451
Wire Tap V20
Zoom Out 25X
Blademaster
Brunt
Burnrate
Crankstart
Deadlift
Dirt Boss
Ejector
Fearswoop
Flatline
Fortress
Hailstorm
Incinerator
Macerator
Shadow Striker
Sonar
Sparkcrusher
Spinister
Terradive
Trenchmouth
Wildfire
Wreckage
Crumplezone
Darksteel (Decepticon Version)
Dropshot
Flathead
Loader
Oil Pan
Racer
Space Case
Storm Surge
Carnivac
Hangnail (Dinobot)
Knucklehead
Traxes
Chopter
Hardfist
Cryotek
Skystalker
Straxus
Magnificus
Sky-Byte (Decepticon Version)
Dust Shot
Carzap
Ulchtar
Shockblast
Skrika
Obsidian
Spy Streak
Blastcharge (Decepticon Version)
Afterburner (Decepticon Version)
Flamesnort
Shadow Raker
Switchblade
Decepticon footsoldiers

Vehicons - Cadillac Ciel/Truck/Jet/Helicopter/Tank/Submarine/ motorcycle/ VTOL craft
Decepticon Miners
Insecticons - Mechanical Rhinoceros Beetle

Insecticon Swarmers
Insecticon Bruisers
Insecticon Spitters
Bomshells
Shrapnels

Terrorcons (Undead Transformers)
Two Heads (Based on a character from Age of Extinction)
KSI Bosses
Protoform Army
Leapers
Deceptidrones

Light Unit
Medium Unit
Heavy Unit
Command Unit
Guerilla Unit
Rollarm Unit
Spider Tank
Jet Snipers/Jet Lasers
Artillery Unit
Sentry Drone
Turret
Dropship

The Armada - Cybertronian Fighter Jet
Sweeps - Cybertronian Flying Hovercraft (Scourge's minions)
Drones

Hatchlings
Scrapper type Decepticon
Long Haul type Decepticon
An unnamed Audi R8 Decepticon
An unnamed M1 Abrams Decepticon
Garbage truck Decepticon
Unnamed Lensmeter Decepticons
Unnamed protoforms
Unnamed Pickup Decepticon
Unnamed Police car Decepticon
McLaren Decepticon
Junkheap drones
Aston Martin Decepticon
Glacier Drones
Blue Drones
Plasma Drones
Shock Drones
Class Alpha drone Units
Class Beta drones Units
Buffalo mine-protected vehicle Decepticon
Green Drones
Oreo

Brawlers (Decepticon Versions)
Fliers (Decepticon Versions)
Guardians
Marauders (Decepticon Versions)
Wall Crawlers (Decepticon Versions)
Titans (Decepticon Versions)
Heavy Soldiers (Decepticon Versions)
Cloakers (Decepticon Versions)
Brutes (Decepticon Versions)
Destroyers (Decepticon Versions)
Snipers (Decepticon Versions)
Spiders
Leaders (Decepticon Versions)
Scouts (Decepticon Versions)
Soldiers (Decepticon Versions)
Scientists (Decepticon Versions)
Rocket Soldiers (Decepticon Versions)
Shotgunners (Decepticon Versions)
Scrappers (Decepticon Versions)
Sharpshooters (Decepticon Versions)
Unknown Decepticon – 1971 Plymouth GTX
Generics