Decepticon
Universe
Transformers Universe
Homeworld
Cybertron
Average Height
Variable
Energy sources
Energy, Oil, Various Minerals, Energon
Sapience Level
Sapient
Leaders
Megatron, The Fallen, Starscream, Galvatron, Overlord, Deathsaurs, MegaZarak
Combat units
Terrorcon, Predacon, Constructicon, Combaticon, Stunticon and the Seekers
The Decepticons are a faction of malevolent, brutal and merciless race of Cybertronian robot warriors from.
Objectives
Edit
The Decepticons are led by a single undeviating goal; total domination of the universe including Earth.
Convertion
Edit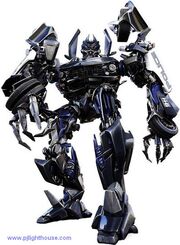 The Decepticons are one of the primary factions in the Transformers mythos. They are typically concerned with such things as galactic conquest, defeating the Autobots, amassing large quantities of Energon, developing powerful weaponry, and beating people up. Not necessarily in that order. Almost invariably, they adopt a military vehicle, such as a tank or fighter aircraft (although one chose a mining truck), to "convert" into.
Differences
Edit
While many would find it difficult to tell the difference between the Autobots and Decepticons were it not for their trademark insignia, Decepticons are the only ones of the two who are naturally built to fly; all Decepticons in fact are meant to have this ability, likely a throwback to their days as Quintesson warfare constructs.
Notable members
Edit
Megatron/Galvatron - M1 Abrams Tank/Cybertronian Tank/Cybertronian Jet/ Walther P38/ Cybertronian racecar/ space cannon/ semi-truck / F-22 Raptor / stealth bomber / H-tank / T-rex / care bear / dragon / hand / bat / elephant / hydrofoil / Devil ostrich/ two headed dragon / shark-jet/ dril-tank/ giant head/ helicoptor
Reflector - Camera

Viewfinder
Spyglass
Spectro
Soundwave/Soundblaster - Cybertronian truck/ tape player/ bomber jet/ drone / satelight/ minivan

Laserbeak - Condor / Microcassette / camera / copying machine
Ravage - Jaguar / Microcassette
Rumble - Robot / Microcassette / tank
Frenzy - Robot / Microcassette / tank / radio
Buzzsaw - Condor / Microcassette
Ratbat - Bat / Microcassette / jet
Slugfest - Stegosaurus / Microcassette
Overkill - Tyrannosaurus Rex / Microcassette/ head
Knock Out - Red Sports Car
Duststorm - Off-road buggy
Conduit - Off-road jeep
Shellshock - Armored car
Derail - Mine clearer
Deadheat - Sports car prototype
Astraea - Stormchaser pick-up truck
Mismatch - Armored interceptor
Hotwire - Van
Drive-By - Muscle car
Rampart - Armored truck
Flatline - Truck
Diabla - Motorcycle
Firebreaker - European sports car
Pandemic - Sports car
Flamewar - Motorcycle
Shockwave/Shockblast - Cybertronian Tank/Cybertronian jet/ laser gun
Demolishor - Cybertronian Anti-aircraft Missile Tank/ dump truck / excavator
Lugnut - Bomber Airplane
Blitzwing - MiG-25 / Mitsubishi Type 74 Main Battle Tank
Astrotrain - Space Shuttle / JNR Class D51 Steam Locomotive
Cyclonus - Cybertronian Fighter Jet/ helicopter/ snow cat
Scourge - Cybertronian Flying Hovercraft/ mack truck / three headed dragon
Barricade - Police Saleen S281
Stinger - 2013 Pagani Huayra
Junkheap - Isuzu Giga garbage truck of Waste Management, Inc.

Small Junkheap
Medium Junkheap
Large Junkheap

Contagion
Rollcage
Breakneck- same as Wildrider
Tomb
The Seekers

Starscream - Modified F-15/22 Eagle
Thundercracker - Modified F-15/22 Eagle
Skywarp - Modified F-15/22 Eagle
Ion Storm - Modified F-15/22 Eagle
Acid Storm - Modified F-15/22 Eagle
Nova Storm - Modified F-15/22 Eagle
Bitstream - Modified F-15/22 Eagle
Hotlink - Modified F-15/22 Eagle
Nacelle - Modified F-15/22 Eagle
Red Wing - Modified F-15/22 Eagle
Slipstream - Modified F-15/22 Eagle
Sunstorm - Modified F-15/22 Eagle
Thrust - Modified VTOL F-15/22 Eagle
Ramjet - Modified F-15/22 Eagle
Dirge - Modified F-15/22 Eagle
Insecticons

Sharpshot - Stag Beetle
Hardshell - Boll Weevil
Kickback - Grasshopper/ drag racer
Constructicons

Hook - Crane Truck
Mixmaster - Concrete Mixer
Scrapper - Front-end Loader
Scavenger - Excavator
Bonecrusher - Bulldozer
Long Haul - Dump Truck
Stunticons

Motormaster - Kenworth K100
Dead End - Porsche928 / moon
Breakdown - Lamborghini Countach/ armored truck / alien racecar
Drag Strip - Tyrrell P34 / shield
Wildrider - Ferrari 308 GTB
Combaticons

Brawl - Leopard Tank
Swindle - FMC XR311 / race car / helicoptor / car
Blast Off - Space Shuttle/ tank/ VTOL jet
Vortex - Sikorsky UH-60 Black Hawk
Onslaught - Anti-Aircraft Truck
The Armada - Cybertronian Fighter Jet
Sweeps - Cybertronian Flying Hovercraft
Runamuck - Pontiac Firebird Trans-Am
Runabout - Lotus Esprit
Octane - Fuel Tank Truck / Jet (possibly KC-135 Stratotanker)
Trypticon - Tyrannosaurus Rex - Battle Station - City - dragon - space station - war ship
Mindwipe - Bat / stealth jet
Skullcruncher - Alligator
Weirdwolf - Wolf
Apeface - Ape / Jet
Snapdragon - Dragon / Jet
Triggerhappy - Jet Fighter
Misfire - Space Jet
Slugslinger - Twin-nosed Jet Fighter
Scorponok - Scorpion / Base
Pounce - Puma
Wingspan - Hawk
Sixshot - Jet / Armored Car / Ramming tank / Laser Pistol / Winged Wolf / Robot / space laser/ tank / submarine
Predacons

Razorclaw - Lion
Rampage - Tiger
Headstrong - Rhino
Divebomb - Eagle
Tantrum - Bull
Terrorcons

Hun-Gurr - Two-Headed Dragon
Rippersnapper - Bipedal Shark
Sinnertwin - Orthrus
Cutthroat - Pteranodon
Blot - Mole Monster
Seacons

Snaptrap - Snapping Turtle
Nautilator - Lobster - Monster
Overbite - Shark with limbs
Seawing - Bipedal Manta Ray
Skalor - Piranha
Tentakil - Upright walking Squid
Decepticon footsoldiers

Vehicons - Cadillac Ciel/Truck/Jet/Helicopter/Tank/Submarine/ motorcycle/ VTOL craft
Insecticons - Mechanical Rhinoceros Beetle
Two Heads (Based on a character from Age of Extinction)
Ad blocker interference detected!
Wikia is a free-to-use site that makes money from advertising. We have a modified experience for viewers using ad blockers

Wikia is not accessible if you've made further modifications. Remove the custom ad blocker rule(s) and the page will load as expected.