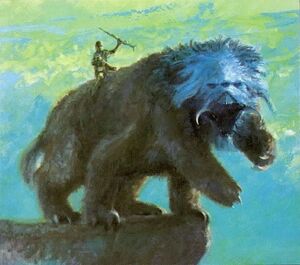 The Ezwal are a sapient species inhabiting Carson's Planet. They have six legs, blue fur and they look like wild animals.
Appearances
Edit
"Cooperate, or Else!", by A. E. van Vogt (1942) (First appearance)
"The Second Solution", by A. E. van Vogt (1942)
The War Against the Rull, by A. E. van Vogt (1959)
Ad blocker interference detected!
Wikia is a free-to-use site that makes money from advertising. We have a modified experience for viewers using ad blockers

Wikia is not accessible if you've made further modifications. Remove the custom ad blocker rule(s) and the page will load as expected.