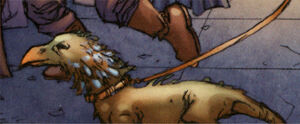 The
feathered dog
was a domesticated reptavian kept as a pet on
Taris
prior to and during the Mandalorian Wars. Any of these creatures still living on-
planet
at the time of the Jedi Civil War were likely killed when Darth Malak ordered the planet subjected to an orbital bombardment.
Behind the scenes
Edit
This creatures looks similar to the Varactyl, a species native to Utapau. It also looks similar to a Mooka.
Appearances
Edit
Ad blocker interference detected!
Wikia is a free-to-use site that makes money from advertising. We have a modified experience for viewers using ad blockers

Wikia is not accessible if you've made further modifications. Remove the custom ad blocker rule(s) and the page will load as expected.