Ad blocker interference detected!
Wikia is a free-to-use site that makes money from advertising. We have a modified experience for viewers using ad blockers

Wikia is not accessible if you've made further modifications. Remove the custom ad blocker rule(s) and the page will load as expected.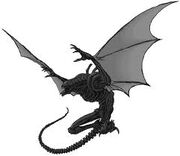 Flying Xenomorphs
can be seen in Konami's
Aliens
, the arcade game
Aliens: Armageddon
(as a boss under the name 'Alien Dragon'), in the Super Nintendo game
Alien vs. Predator
(as an end-level boss - this one having gestated in a giant species of bat, and taken on the arm-wings and overall appearance of a bat), as well as a
Flying Queen
in the Kenner toy line.