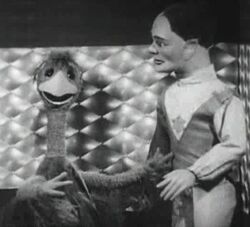 A Gabblerdictum, also known as Martian Parrot, is a species of relatively large avianoid creatures from the planet Mars which are (in)famous for their talkative nature.
Appearances
Edit
Space Patrol (1963 - 64):

Ep.04 - "Slaves of Neptune"
Ep.05 - "The Shrinking Spaceman"
Ep.06 - "The Forgers"
Ep.07 - "The Robot Revolution"
Ep.09 - "Husky Becomes Invisible"
Ep.10 - "The Buried Spaceship"
Ep.13 - "The Walking Lake of Jupiter"
Ep.16 - "The Fires of Mercury"
Ep.17 - "The Invisible Invasion"
Ep.20 - "The Planet of Light"
Ep.28 - "The Evil Eye of Venus"
Ep.29 - "Secret Formula"
Ep.31 - "Deadly Whirlwind"
Ep.32 - "The Jitter Waves"
Ep.36 - "Forcefield X"
Ep.39 - "The Shrinking Gas of Jupiter"
Ad blocker interference detected!
Wikia is a free-to-use site that makes money from advertising. We have a modified experience for viewers using ad blockers

Wikia is not accessible if you've made further modifications. Remove the custom ad blocker rule(s) and the page will load as expected.