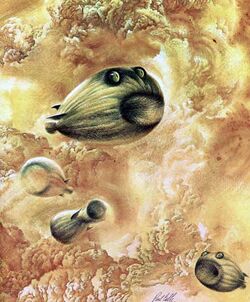 Jovians are extraterrestrial beings native to the gas giant Jupiter, the fifth planet of the Sol System. Although not as popular as Martians or Venusians, Jovians are still a fairly common theme in science fiction and astrobiology.
Because the planet is a gas giant, native inhabitants of Jupiter are usually depicted as large floating organisms, similar to jellyfish or living balloons. Astronomer Carl Sagan once proposed that creatures similar to the atmospheric beasts could inhabit the atmosphere of Jupiter or similar planets.
External links
Edit
Ad blocker interference detected!
Wikia is a free-to-use site that makes money from advertising. We have a modified experience for viewers using ad blockers

Wikia is not accessible if you've made further modifications. Remove the custom ad blocker rule(s) and the page will load as expected.