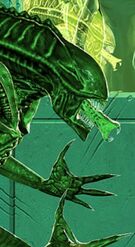 The K-Series are a breed of Xenomorph captured and bred by human scientists hoping to use them as bio-weapons. They are also known as yellow Xenomorphs, because of the color of their exoskeleton.

The K-Series created by Dr. Samuel Kadinski eventually escaped from the human lab, and used the humans as hosts. They constructed their hive within the lab. Their species was destroyed by the "regular" black Xenomorphs, who did not tolerate the new genetic strain. To preserve the purity of the Xenomorph race they eliminated the K-series from existence. Much like what they did with the red army
The K-Series likely stands for "Kadinsky Series".
Appearances
Edit