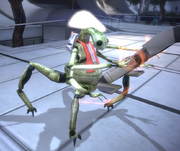 The 
keepers
 are a bio-engineered, insectoid race found only on the Citadel. They are completely docile and harmless, and appear to exist for no other reason than to maintain the Citadel and its systems.
The keepers are believed to have been created by the Protheans to serve as caretakers of the station, and have become essential to the Citadel's operation. Very little is known about them, as they do not communicate with other species, and it is against C-Sec regulations to interfere with keeper activity.
Ad blocker interference detected!
Wikia is a free-to-use site that makes money from advertising. We have a modified experience for viewers using ad blockers

Wikia is not accessible if you've made further modifications. Remove the custom ad blocker rule(s) and the page will load as expected.