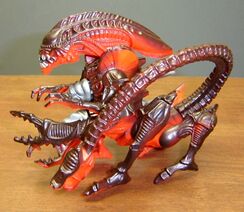 The
Killer Crab Alien
was a
Xenomorph
formed from a giant crab.
It has two hind legs and four arms. The lower arms are used as the front legs, while the top are used to grab prey. It can fire what appears to be silver Chestbursters from its two chest cavities, and it possesses a pronged tail.
Ad blocker interference detected!
Wikia is a free-to-use site that makes money from advertising. We have a modified experience for viewers using ad blockers

Wikia is not accessible if you've made further modifications. Remove the custom ad blocker rule(s) and the page will load as expected.