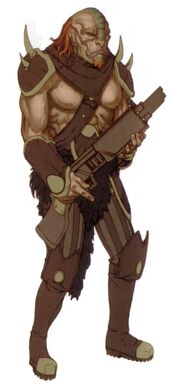 The Krish were a race native to the planet of the same name, the Krish were smooth-skinned humanoids with large, wide heads. Their faces were dominated by bony ridges above the eyes and along the nose, and their mouths were filled with rows of tiny, pointed teeth. They also have short, wiry hair, and love playing games of any sort. In general, however, they were highly unreliable when it came to business matters.
Ad blocker interference detected!
Wikia is a free-to-use site that makes money from advertising. We have a modified experience for viewers using ad blockers

Wikia is not accessible if you've made further modifications. Remove the custom ad blocker rule(s) and the page will load as expected.