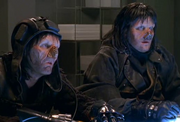 A pseudo-Medieval race. They dress in somber brown leather, appear unkempt, have the mental capability of 10-year-olds, and are eager to play chicken and use violence at slightest irritation. Every war the race participates in, a battle song is written. One of their battle songs is "Kill the Humans", which includes a death threat for Commander Henderson in the lyrics. The race is possibly caricatures of the British Chav subculture, or the Ali G stereotype of white youth.
Ad blocker interference detected!
Wikia is a free-to-use site that makes money from advertising. We have a modified experience for viewers using ad blockers

Wikia is not accessible if you've made further modifications. Remove the custom ad blocker rule(s) and the page will load as expected.