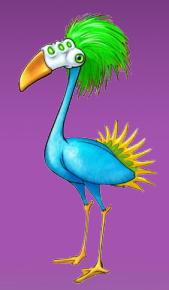 Loofers are arrogant and quick to anger, and are considered highly dangerous for inexact reasons. For some reason, not a single Loofer has ever successfully been studied or examined; in fact, no ship or equipment has ever even returned from an exploratory mission involving them. Only one researcher has ever survived an encounter with a Loofer, and they were mentally broken by the experience, only able to stammer gibberish about "all those terrible eyes."
Ad blocker interference detected!
Wikia is a free-to-use site that makes money from advertising. We have a modified experience for viewers using ad blockers

Wikia is not accessible if you've made further modifications. Remove the custom ad blocker rule(s) and the page will load as expected.