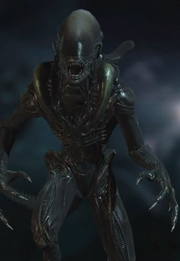 The 
Lurker
 is a caste of Xenomorph very similar to the Drone. Lurkers are easily identified by their usually smooth head carapaces. Unlike the far more common Warrior caste which tend to employ direct assaults and swarm attacks, using sheer weight of numbers to overwhelm defences and subdue their prey, Lurkers prefer to keep their distance and lurk in the shadows, only attacking when the time is right.
Ad blocker interference detected!
Wikia is a free-to-use site that makes money from advertising. We have a modified experience for viewers using ad blockers

Wikia is not accessible if you've made further modifications. Remove the custom ad blocker rule(s) and the page will load as expected.