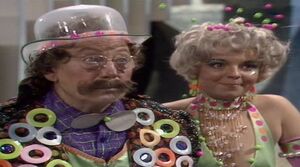 The Lurmans are a space-faring species externally identical to Human beings. Virtually nothing has been revealed about them other than that they appear to be in peaceful terms with the Inter Minorians.
Appearances
Edit
Doctor Who season 10 - Carnival of the Monsters (1972)
Ad blocker interference detected!
Wikia is a free-to-use site that makes money from advertising. We have a modified experience for viewers using ad blockers

Wikia is not accessible if you've made further modifications. Remove the custom ad blocker rule(s) and the page will load as expected.