Mountain Meat Beetle
General Information
Homeworld
Venus
Habitat
inside of mountains
Height
4,5m (15ft)
Locomotion
Octopod
Diet
Glome Grubs and Khraglonii Fungal Globes
Sapience Level
Non-sapient
Behind the Scenes
Universe
Dr. Grordbort's Universe
The Mountain Meat Beetle is a Venusian creature that spends most of its time underground. For this, they build vast burrows in the insides of mountains. They only come out of these burrows once in a while to search for food.
Meat Beetles carry several hundred egg pods on their back, where their young incubate within a time of 25 years after the the egg has been laid. When they hatch, they're about the size of a Jack Russel Terrier. The parent then starts to eat its own young and only some of them survive long enough to escape.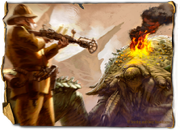 Dimple Backed Vroxels
are cleaning the barnacle like growths from the Beetles shells when they're on the Venusian surface.
Ad blocker interference detected!
Wikia is a free-to-use site that makes money from advertising. We have a modified experience for viewers using ad blockers

Wikia is not accessible if you've made further modifications. Remove the custom ad blocker rule(s) and the page will load as expected.