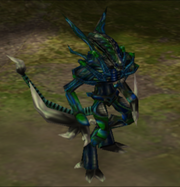 A Ravager Xenomorph is a morphological mutation purposefully bred only in a state of war between the hive and the host species. These massive beasts are evolved from the Praetorians, and more purebred compared to other subspecies.
The creatures grow diamond-sharp blades in place of digits, capable of slicing enemies apart in several blows, and also capable of slicing through the titanium armor plating of spaceships.
The one drawback of this caste is that Ravagers are built to instinctively decapitate their foes, preventing them from being harvested by Facehuggers.
Their chitinous armor stops all but the heaviest caliber bullets. More advanced breeds of Ravager, when heavily wounded, can enter a healing state where they recover until they are capable of fighting once more. This state is called Regenesis.
Appearances
Edit
See Also:
Edit
Ad blocker interference detected!
Wikia is a free-to-use site that makes money from advertising. We have a modified experience for viewers using ad blockers

Wikia is not accessible if you've made further modifications. Remove the custom ad blocker rule(s) and the page will load as expected.