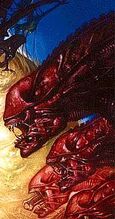 Red Aliens are similar to the standard strain of Xenomorphs, except for their color. According to some sources, they were more aggressive and reproduced more slowly. Some suspect they were produced by a rival faction of Mala'kak, and pitched against each other in a war the Blacks would win.
The red xenomorphs were a large army that killed and ate all other xenomorphs until the red army(red xenomorphs) was killed and wiped out by other xenomorphs and colonial marines.
Ad blocker interference detected!
Wikia is a free-to-use site that makes money from advertising. We have a modified experience for viewers using ad blockers

Wikia is not accessible if you've made further modifications. Remove the custom ad blocker rule(s) and the page will load as expected.