Reptoid
Talk

2
5,052pages on
this wiki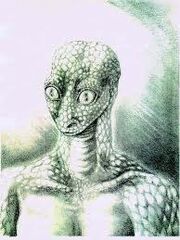 Reptoids, (or Reptilian humanoids) are scaly, humanoid, sapient beings which allegedly live in the real world. They are said to live secretly on planet Earth, and are often linked to alien abductions and UFO reports.
Many people say that reptoids have been living among us for thousands of years, disguised and playing important roles in human society.
Physiology
Edit
Reptoids are reptilian creatures with a green skin color, an aggressive nature, and high intelligence. They look crocodile-like in appearance, except for the fact that they are bipedal. They have claimed many planets.
Society and Intelligence
Edit
These creatures are supposedly more intelligent than people- believers in them say they taught civilisation to humanity. Reptoids are supposedly intelligent enough to build a colony.