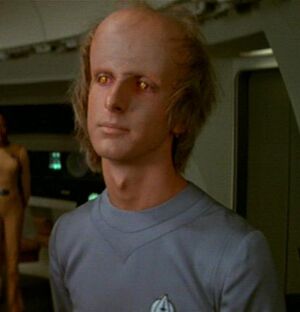 The
Rhaandarites
are a long-lived, androgynous humanoid race native to the planet Rhaandar. They are noted for their prominent forehead lobes, as well as being well-suited for taking orders -- more so than for giving them. Rhaandarites have a lifespan of several centuries and have a very complex social structure. While not well-known, most Rhaandarites in Starfleet service are considered "slow learners " or "problem cases" on their homeworld, and are thought to benefit from Starfleet's "simple" heirarchy.
Ad blocker interference detected!
Wikia is a free-to-use site that makes money from advertising. We have a modified experience for viewers using ad blockers

Wikia is not accessible if you've made further modifications. Remove the custom ad blocker rule(s) and the page will load as expected.