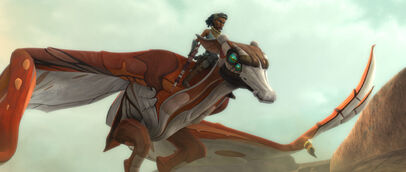 Rupings were reptavians native to the planet of Onderon. The Onderon rebels used rupings as battle mounts during the Battle of Onderon
Personality and traits
Edit
Rupings were very well trained flying reptavians who were close to their owners and were very useful to the Onderon rebels. They had orange skin and 4 green eyes.
Behind the scenes
Edit
These creatures were named after The Clone Wars concept artist Tara Rueping.
Appearances
Edit
Ad blocker interference detected!
Wikia is a free-to-use site that makes money from advertising. We have a modified experience for viewers using ad blockers

Wikia is not accessible if you've made further modifications. Remove the custom ad blocker rule(s) and the page will load as expected.