Ad blocker interference detected!
Wikia is a free-to-use site that makes money from advertising. We have a modified experience for viewers using ad blockers

Wikia is not accessible if you've made further modifications. Remove the custom ad blocker rule(s) and the page will load as expected.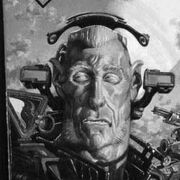 For several hundred years, the Empire is the sole government of humanity. Among its many worlds is Sauron, where the culture has grown militaristic and adheres to a literal interpretation of the philosophy of
Nietzsche
, namely that "man is something to be surpassed." In service of this aim, they engage in extensive
genetic modification
and
eugenic breeding
programs to turn themselves into
supersoldiers
known in the galaxy at large as the Sauron Supermen. Bristling under Imperial hegemony, in the 27th century they lead several worlds into open revolt.
Description
Edit
Sauron Supermen are large, warrior-like humanoids.