Ad blocker interference detected!
Wikia is a free-to-use site that makes money from advertising. We have a modified experience for viewers using ad blockers

Wikia is not accessible if you've made further modifications. Remove the custom ad blocker rule(s) and the page will load as expected.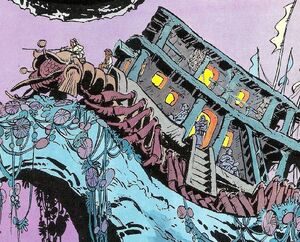 The Skromm is a huge centipede-like creature native to the rogue planet Zahir. The nomadic people of Lemm build their residences on top of these mighty beasts, thus creating the ultimate mobile house.
Apperances
Edit
Valérian and Laureline:

World Without Stars (1972)
The Time Opener (2010)

The Inhabitants of the Sky: The Cosmic Atlas of Valérian and Laureline (1991)