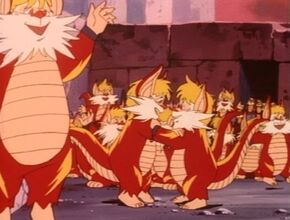 The Snarfs are a species of reptile-cat creatures that are native to Thundera. On Thundera, they lived in the Valley of Snarfs.
Snarfs are intelligent, able to do tasks such as cooking and nursing. They are able to speak to people and animals. Their tails are strong, dexterous, and prehensile; they are able to stand on them. Snarfs apparently shed during a specific season.
Of all the species in the universe, they are the only species completely devoid of all evil capabilities. Due to their abilities, they are often servants to the Thunderian nobility.
When their home planet was destroyed, 43 of them escaped to a planet now called Planet of Snarfs, many more survived though and eventually found their way back to New Thundera. When Mumm-Ra recreated Thundera, he used the Snarfs to search for the treasure. They were freed by the ThunderCats.
Notable Snarfs
Edit
Snarf
Snarfer
Snarf Eggbert
Snarf Oswald
Despite claims that they are devoid of evil, Snarf has shown he is capable of selfishness.
Ad blocker interference detected!
Wikia is a free-to-use site that makes money from advertising. We have a modified experience for viewers using ad blockers

Wikia is not accessible if you've made further modifications. Remove the custom ad blocker rule(s) and the page will load as expected.