Ad blocker interference detected!
Wikia is a free-to-use site that makes money from advertising. We have a modified experience for viewers using ad blockers

Wikia is not accessible if you've made further modifications. Remove the custom ad blocker rule(s) and the page will load as expected.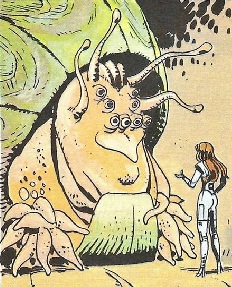 The Solum Memories are a sapient gastropod-like species. They are biologically immortal and capable of remembering details of everything that happened since they were born. In the sinking city of the planet Solum, the abandoned lower layers are each left with a Memory as a guardian, whose function is to preserve Solum's long history and tell it to anyone interested.
Appearances
Edit
Valérian and Laureline - Métro Châtelet, Direction Cassiopeia (1980)
The Inhabitants of the Sky: The Cosmic Atlas of Valérian and Laureline (1991)