Ad blocker interference detected!
Wikia is a free-to-use site that makes money from advertising. We have a modified experience for viewers using ad blockers

Wikia is not accessible if you've made further modifications. Remove the custom ad blocker rule(s) and the page will load as expected.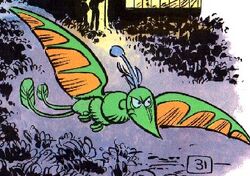 The Tchoungs are a species of small hummingbird-like creatures known for their extraordinary sense of direction and the ability to record coordinates of anywhere they've been like a living GPS, as well as to always find the shortest route to their intended destination. They are commercialized and transported in a dehydrated state, and can be brought to life instantly in contact with water (similar to the Instant Martians).
Appearances
Edit
Valérian and Laureline:

On the Frontiers (1988)
Hostages of the Ultralum (1996)
At the Edge of the Great Void (2004)
The Order of the Stones (2007)
The Time Opener (2010)

The Inhabitants of the Sky: The Cosmic Atlas of Valérian and Laureline (1991)