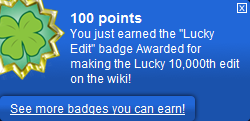 As you surely have guessed by the title of this blog, I just got the achievement for our 10,000th edit since adding achievements to this wikia. That wasn't done very long ago, and that really impresses me that we've done so much in such a short period of time. Keep it up, everyone! We're doing amazing so far! I want to thank you all for all the contributions you have made and the big help you have all been in keeping this dream alive. -- Somarinoa 01:48, March 4, 2012 (UTC)
Ad blocker interference detected!
Wikia is a free-to-use site that makes money from advertising. We have a modified experience for viewers using ad blockers

Wikia is not accessible if you've made further modifications. Remove the custom ad blocker rule(s) and the page will load as expected.