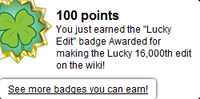 I just got our Lucky Edit 16 achievement about 13 minutes ago—that means that since we got achievements up and running, the lot of us have now made just over 16,000 edits! Can you believe we've done so much in such a short time period? I sure can't. And we have all of you to thank. Keep up the amazing work, and we'll hit 20,000 edits in no time flat!
— Somarinoa 01:22, June 19, 2012 (UTC)
Ad blocker interference detected!
Wikia is a free-to-use site that makes money from advertising. We have a modified experience for viewers using ad blockers

Wikia is not accessible if you've made further modifications. Remove the custom ad blocker rule(s) and the page will load as expected.