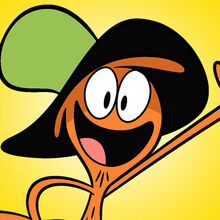 Wander is an overly-optimistic intergalactic explorer. He travels across the universe with his trusty steed Sylvia, while helping spread happiness and freedom along the way.
Behind the scenes
Edit
Wander is the main protagonist of the Disney Channel animated show Wander Over Yonder.
He is voiced by Jack McBrayer.
His creator, Craig McCracken, described Wander as a nomadic, hippie, peace-loving, muppet man.
Ad blocker interference detected!
Wikia is a free-to-use site that makes money from advertising. We have a modified experience for viewers using ad blockers

Wikia is not accessible if you've made further modifications. Remove the custom ad blocker rule(s) and the page will load as expected.