The Xanthyicariumnipnoidupalys (colloquially called Xers) are a hostile alien species from the planet 430-X.
Biology & Appearance
Edit
They are on average smaller than an adult human, they have three eyes, large and long ears, flat olive skin, and flat noses. Their legs seem short but they move surprisingly quick. No Xers are known to have hair.
The Xers are incredibly hostile, they have continually made attempts to invade many planets and thus have earned the Raeoleans as their nemesis. Because of their hostile attitude and nature they are sometimes not allowed on Big Lou's Interplanetary Space Station & Deli.
Not much is known about their history, but they attempted to invade earth in order to steal its water, by infiltrating human society with hundreds of androids and then invading. Their invasion was thwarted by a young girl named Shelby Crusado and her friend Joey (who was a Raeolean android), their androids were reprogrammed and continued to function in human society
Technology
Edit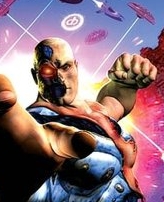 The Xers are a masters of a number of technologies, they have laser guns and their ships are for the most part oblong-shaped and capable of intestellar (possibly intergalactic) travel. The posses great robotics technology which they use to infiltrate planets, and the ability to compress a worlds worth of water into a fifty gallon container. Water has many more purposes to them than humans, they are even able to use it as fuel.
The androids they have created are disguised effectively as human beings, and are controlled from their homeworld. Known androids include Arielle, Mrs. Rodriguez, and Mr. Walinski.
The "Xers" only appear in the 16th American chillers book, "Alien Androids Assault Arizona."