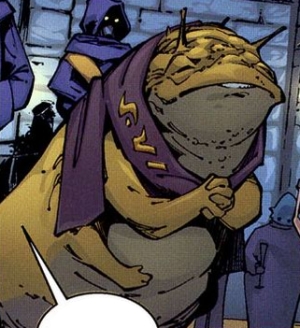 The
Yahk-Tosh
are a slug-like alien species from Xolu that were similar to the
Hutts
, but with more insectoid bodies. They have six thick arms which they use for moving around and their scaled skin has a dirty green color. Four thin horns sprout from the tops of their heads and their pointed snouts are filled with rows of serrated teeth.
Like the Hutts, the Yahk-Tosh are also immune to Force mind tricks. They have also established colonies on Jilrua and Far Pando. A notable Yahk-Tosh was Lord Gar-oth who subjugated Princess Lourdes' homeworld until he was killed by the Princess with the help of Jedi Knight Yoshi Raph-Elan.
Ad blocker interference detected!
Wikia is a free-to-use site that makes money from advertising. We have a modified experience for viewers using ad blockers

Wikia is not accessible if you've made further modifications. Remove the custom ad blocker rule(s) and the page will load as expected.