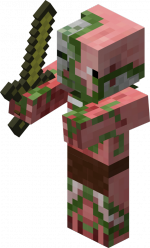 Zombie Pigmen are a species of semi-sapient half-zombie half-pig humanoid creatures that exist in the Minecraft Universe.
Zombie pigmen can be found within the Minecraft Universe in a alternate dimention known as The Nether. Here, the Zombie Pigmen species live among Ghasts, Magma Cubes, and Wither skeletons. The zombie pigmen are peaceful until you attack them. They are water and lava resistant. Somehow pigs in the overworld if struck by lighting turns into a zombie pigman. This could be due to the lightning supercharging the pig into transforming into a zombie pigmen, similar to how when a Creeper is struck by lightning it is turned into a Charged Creeper.
Ad blocker interference detected!
Wikia is a free-to-use site that makes money from advertising. We have a modified experience for viewers using ad blockers

Wikia is not accessible if you've made further modifications. Remove the custom ad blocker rule(s) and the page will load as expected.